Services
---
Online Medical Records

Provides on-line medical records for pet owners enrolled through your clinic. Can be integrated into your existing website to provide a seamless user experience.

Learn More
eMarketing Tools

• Health Service Reminders
• Pet Birthday Cards
• Appointment Reminders
• Coupon Builder
• Newsletters & Surveys

Learn More
Postal Reminder Cards

Complement your e-mail reminders with ePetHealth's Postal Reminder Cards. Choose from a variety of eye-catching designs on your provider portal and set other preferences.

Learn More
Home Delivery

ePetHealth is integrated with VetSource home delivery. Pet owners can manage their pet's prescription and food deliveries and shop directly from their ePetHealth portal.

Learn More
Pet Health Articles

Now you can offer an extensive collection of pet health articles from your website. The information your clients need is just a click away 24/7!

Learn More
Pet Health Videos

With over 30 videos and an ever expanding library, you can now make client education easy and fun. State-of-the-art animation and video tell a compelling story!

Learn More
Breed Information

With a database of all AKC recognized breeds and feline breeds, our information covers everything from the defining physical characteristics and behavior to possible health concerns.
Learn More
Interactive Animal

Now your clients can understand their pets in a whole new way. Our interactive animals will amaze and educate your clients.

Learn More
---
Online Medical Records
This service automatically retrieves and electronically duplicates enrolled pet's medical records from your Practice Management Software (PMS) system and uploads the data to ePetHealth.com
Features:
Integrate into a clinic's existing website, while maintaining the sites' look and feel (website not required).
Customize the clients' view to only include medical records and/or notes allowed by the Doctor.
Automated and compatible with AVImark, Cornerstone, Infinity, IntraVet 350, IntraVet 4.0, and VetFM systems.
Custom web links can be attached to specific records.
Clients' pets can be enrolled in a National Lost & Found registry.
Clinic Benefits:
Improves health schedule compliance and customer loyalty.
Reduces overall time and cost associated with calling, faxing, mailing or emailing medical records.
Keeps information up-to-date by emailing your clinic when clients change their contact information, pets' picture or birthday. These updates can then be entered into your clinic's VMS system.
Increases profit through improved health schedule compliance and/or charging an annual fee to enrolled clients.
Patients' records can be viewed by the Doctor while away from the office or during a natural disaster.
Pet Owner Benefits:
Ability to manage pets' health schedules, view upcoming appointments, or follow up on healthcare recommendations.
24/7 access to the required medical records needed for boarding, traveling, enrolling in classes, or in an emergency.
Email alert reminders can be setup for product or medication doses. eAlerts helps you manage the number of doses remaining and the days between doses. View eAlerts sample
Request appointments, make boarding reservations, refill medications, or ask general questions. eClinic is available 24/7, which makes communication with your clinic convenient and easy. View eClinic sample
View Medical Records sample
Enrolling pet owners and managing ePetHealth within your VMS system is easy. Clients are enrolled by simply entering their email address into your clinic's VMS system. Once a client is enrolled they will receive an email encouraging them to register and informing them of the benefits of using ePetHealth. Records are safe, secure, and can only be viewed with an email address and private password.
Clinics wishing to enroll clients in the national lost & found registry will need to distribute an ePetHealth serialized collar tag for each pet, and enter the serial number into the ePetRecords ID or ePetHealth ID field in your clinic's VMS system.
View Lost And Found enrollment sample
Back to Top
---
eMarketing
These services help your clinic save time and money by automating daily, weekly, and monthly marketing tasks.
eReminders:
Health reminders are sent to all clients enrolled in ePetHealth or who have an email address in a clinic's VMS system (clients can unsubscribe if they do not wish to receive email reminders). Reminders are emailed 30 days prior to upcoming health schedules and again at 30, 60, or 90 days overdue. Emails are branded with a clinic's email address, name, phone number, and are personalized with the pet's name. Using eReminders is a cost effective way to increase health schedule compliance.
View eReminders sample
eAppointments:
Appointment reminders are sent prior to upcoming appointments to all clients enrolled in ePetHealth, or who have an email address in a practice's management software. These reminders can now be sent via automated E-mail, Text (SMS) message or by Telephone. Clients can easily confirm E-mail and Text message appointments with one-click confirmation and your practice will be notified via email. Phone appointments can also be confirmed electronically and can by reviewed with a report available on the provider portal. Text reminders are sent between 10AM-12PM Central and Telephone reminders are sent between 11AM-3PM Central.
View E-Mail sample
View Text (SMS) sample
Play Telephone sample
eSurveys:
Improve client satisfaction and increase referrals by allowing customers to provide important feedback about a recent visit. Choose from our standard survey questions or create your own customized survey. Clients will automatically receive an email survey 1 to 2 days after an appointment and the results will be emailed to your clinic. Clients can choose to submit surveys anonymously or request a follow-up email or call.
View eSurvey sample
eBirthdayCards:
What better way to show you care than with a clinic branded eBirthdayCard? Let pet owners know you appreciate their business with a personalized birthday card email to their pet. Cards are emailed to all clients enrolled in ePetHealth or who have an email address in your practice management system (clients can unsubscribe if they do not wish to receive email birthday cards). Pet owners can also update their pet's birthday through their ePetHealth profile. Both static and animated eBirthdayCards are available!
View eBirthdayCards sample
eNewsletters:
eNewsletters are a cost effective and efficient method of communication for your entire clinic or a small target group. Emails can be personalized using the client's first name, last name, or pet's name. Target groups can be established by selecting criteria for breed, species, gender/altered, and age. Use eNewsletters to introduce new products or services (i.e. ePetHealth), share health news & tips, inform clients about new clinic information, offer promotions, etc.
View eNewsLetters sample
Coupon Builder:
Provide personalized, professional promotions and discounts through Coupon Builder!
Create custom coupons with your practice logo and apply them to eMarketing materials. The coupons include a custom message, can be set to expire and you can decide to which eMarketing files you'd like them applied. Whether you're running a wellness campaign or a seasonal special, coupons are a great way to attract your clients' attention and increase visits.
View Coupon sample
Postal Reminders Cards
Bring more clients through your doors - and exert less energy doing so, with ePetHealth Postal Reminder Cards!
Canine, feline, equine and exotic 4"x6" cards available
Choose the reminder schedule and messages
Include a custom marketing message on each card
Multi-pet cards save money and organize a family's health service reminders onto one postcard
Select reminder codes from your practice management software to include or exclude
Choose to not send postal reminders to clients with e-mail addresses
Cards include your hospital's return address and practice information, as well as client mailing address.
View Postal Reminder Cards sample
Back to Top
---
Home Delivery
VetSource is reshaping the way you deliver medicine. This exciting service allows you to provide both traditional and proactive home delivery services. Pet owners will be able to either browse your website for products or be automatically enrolled for monthly shipments before leaving the practice. VetSource's Remind Me™ program allows you to recapture lost revenues from non-veterinary online pharmacies while boosting client compliance. Pet owners will also be able to manage and track their pet's medication and food shipments from within the ePetHealth portal. To learn more about our home delivery option, please visit
vetsource.com
or ask your Webster representative for more details.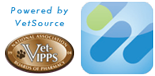 View Home Delivery sample
Back to Top
---
Pet Health Articles
Offer your clients 24 hour access to a library of pet health articles for timely information on important topics. Our database of articles is sorted by canine, feline and equine content and can be easily searched. Articles can also be printed for later review.
View Pet Health Articles sample
Back to Top
---
Pet Health Videos
These videos include high definition footage and incredible animations to better explain common pet health issues and more complex conditions. Pet owners can watch these programs at their leisure and they are a great way to reinforce topics that were discussed at the practice. Each video is professionally narrated, fully reviewed by our veterinary team and runs four to six minutes. Please see below for a list of titles...
Administering Eye Medications
Administering Insulin Injections
Allergies
Anal Sac Disease
Canine Heartworm Disease
Canine Nutrition
Cataract Removal in Dogs
Cleaning and Medicating Ears
Cruciate Ligament Rupture- Extracapsular Repair
Cruciate Ligament Rupture- TPLO
Cruciate Ligament Rupture- TTA
Degenerative Joint Disease
Dental Health
Dental Prophy/Cleaning
Ear Flush Procedure
Ear Infections
Exercising Your Pet
Feline Heartworm Disease
Feline Nutrition
Fleas
Fracture Repair
Gastric Dilitation Volvulus
Internal Parasites
Intervertebral Disc Repair
Maxillary Fourth Premolar Extraction
Neutering Your Pet
Obesity
Patellar Luxation Repair
Pilling Your Pet
Post Surgical Care at Home
Senior Wellness
Spaying Your Pet
Ticks
Vaccines
Wellness
Always developing and adding more!
View Pet Health Videos sample
Back to Top
---
Breed Information
Your clients can learn more about their dog or cats in this searchable breed module. Information includes size, color, breed history/origin, fun facts and more. Each breed page can be printed for further review.
View Breed Information sample
Back to Top
---
Interactive Animal
An interactive dog, cat or horse can be opened to explore body systems and learn how different areas of anatomy can effect your pet's health. Kidney disease, osteoarthritis, cataracts, periodontal disease are just a few of the many topics that can be explored. All of these fascinating features can be integrated directly into your website or accessed at ePethealth.com!
View Interactive Animal sample
Back to Top